Please refer to www.GymRatCHALLENGE.com and follow @GymRatCHALLENGE on TWITTER and @TheRealGymRatCHALLENGE on Instagram for any additional event details, and don't hesitate to contact the tournament office directly at 1-888-7-GYMRAT (1-888-749-6728) or e-mail COMPETE@GymRatCHALLENGE.com if you have any questions or comments.
TICKETS TO ATTEND GymRat LIVE CAN BE PURCHASED ONLINE BY CLICKING HERE. 

THIS EVENT WILL BE A SELL-OUT, SO SPECTATORS ARE STRONGLY ENCOURAGED TO PURCHASE ADVANCED TICKETS ONLINE.

TICKETS WILL ALSO BE ON SALE FOR SPECTATORS AT THE DOOR OF THE COMPETITION VENUE.

GymRat LIVE EVENT PASSES ARE AVAILABLE FOR $40 AND ALLOW ACCESS TO ALL 48 GAMES THAT WILL BE PLAYED DURING THE EVENT WEEKEND.

ONE-DAY PASSES ARE ALSO AVAILABLE FOR $30 PER EVENT DAY.

SENIOR CITIZEN PRICING: $35 FOR TOURNAMENT PASS/$25 FOR ONE-DAY PASS.
FAMILY PRICING: TWO ADULTS WITH TWO OR MORE CHILDREN….$120 FOR TOURNAMENT PASS & $90 FOR ONE-DAY PASS
CHILDREN UNDER SIX ADMITTED FOR FREE.
ALL GymRat LIVE GAMES WILL BE PLAYED AT

THE IMPACT ATHLETIC CENTER LOCATED AT 390 NY ROUTE 146, HALFMOON, NY 12065

TEAM CHECK-IN WILL TAKE PLACE AT THE SITE AHEAD OF EACH TEAM'S FIRST GAME.

AT THE IMPACT CENTER, THERE IS A SEPARATE ENTRANCE FOR PLAYERS & COACHES. PARENTS, FAMILY MEMBERS, & FANS ARE NOT ALLOWED TO USE THIS "PLAYER & COACHES ONLY" DESIGNATED ENTRANCE. ANY PARENT OR FAN ATTEMPTING TO USE THIS ENTRANCE IN ORDER TO AVOID PURCHASING A TICKET WILL BE BANNED FROM THE ARENA FOR THE DURATION OF THE EVENT.

FOR SECURITY PURPOSES, ALL EVENT COMPETITORS (PLAYERS & COACHES) WILL BE ISSUED WRIST BANDS THAT MUST BE WORN THROUGHOUT THE WEEKEND. THESE WRIST BANDS WILL ALLOW PLAYERS AND COACHES ENTRY INTO EVENT VENUE THROUGH THE DESIGNATED "PLAYERS & COACHES ONLY" ENTRANCE. COMPETITION WRISTBANDS WILL BE ISSUED TO ALL ROSTERED PLAYERS AND TO A MAXIMUM OF TWO (2) COACHES PER TEAM. WRISTBANDS WILL NOT BE ISSUES TO ANY NON-BENCH PERSONNEL. PLAYERS AND COACHES MUST WEAR THEIR WRISTBAND ON THEIR PERSON (WRIST/ANKLE). BANDS CANNOT BE WORN ON SNEAKERS OR BAGS. PLAYERS MAY WEAR THEIR WRISTBAND ON THEIR GAME JERSEY.

ANY PERSON FOUND ENTERING THE EVENT WITHOUT A TICKET OR WITH UNAUTHORIZED USE OF A COMPETITION WRISTBAND WILL BE REMOVED FROM THE VENUE AND IMMEDIATELY REMANDED TO THE LOCAL AUTHORITIES.

PLEASE BE AWARE AND RESPONIBLE FOR ALL GAMES RULES AND RULES OF CONDUCT. GymRat LIVE IS A HIGH PROFILE EVENT. AS SUCH, GymRat LIVE RULES AND POLICIES WILL BE STRICTLY ENFORCED. GAME RULES AND RULES OF CONDUCT CAN BE FOUND AT http://www.gymratchallenge.com/boys-live-rules-code-of-conduct/
THE STATED MISSION OF THE GymRat LIVE IS TO ALLOW YOUNG BASKETBALL ATHLETES THE OPPORTUNITY TO COMPETE AT THE HIGHEST LEVEL AND TO SHOWCASE THEIR SKILLS IN PURSUIT OF THE OPPORTUNITY TO PLAY COLLEGIATELY AND BEYOND. THE OVERWHELMING SUCCESS RATE OF THE GymRat BASKETBALL IN THIS MISSION IS WELL-DOCUMENTED
ANYONE CAUSING A DISRUPTION TO THE ATHLETES' OPPORTUNITIES TO SHOWCASE THEIR SKILLS AND/OR BEHAVING IN A MANNER THAT IS INAPPROPRIATE WILL BE REMOVED & BANNED FROM ALL EVENT VENUES.

ANY PLAYER, FAN, SPECTATOR, PARENT, AND/OR FAMILY MEMBER EXHIBITING BEHAVIOR THAT IS DEEMED TO BE DISRUPTIVE TO THE EVENT AND/OR THE COMPETITION WILL BE IMMEDIATELY REMOVED FOR THE EVENT AND BANNED FROM ALL COMPETITION VENUES. THIS ABSOLUTLEY INCLUDES ANY SPECTATOR WHO ENTERS THE PLAYING SURFACE AT ANY POINT OTHER THAN BEING WAIVED ON TO THE COURT BY MEDICAL PERSONNEL TO ADDRESS AN INJURED PLAYER.

AT THE SOLE DISCRETION OF EVENT ORGANIZERS, DISRUPTIVE BEHAVIOR FROM ANY PLAYER, FAN, SPECTATOR, PARENT, AND/OR FAMILY MEMBER MAY RESULT IN DISQUALIFICATION OF THE TEAM OR TEAMS ASSOCIATED WITH SAID PLAYER, FAN, SPECTATOR, PARENT, AND/OR FAMILY MEMBER. IT IS THE RESPONSIBILITY OF EACH TEAM TO ENSURE THAT THOSE IN THEIR TRAVEL PARTY ARE AWARE OF THE STANDARDS, RULES, AND CODE OF CONDUCT AT GymRat LIVE. NO REFUNDS WILL BE PROVIDED TO ANY PLAYER, TEAM, FAN, SPECTATOR, PARENT, AND/OR FAMILY MEMBER THAT IS EJECTED FROM THE EVENT.

GymRat LIVE HAS A ZERO TOLERANCE POLICY IN REFERENCE TO FIGHTING AND ACTS OF VIOLENCE. ANY FAN, PLAYER, OR TEAM PERSONNEL COMMITTING AN ACT OF VIOLENCE OR RECEIVING A TECHNICAL FOUL FOR FIGHTING WILL BE EJECTED FROM THE GAME, REQUIRED TO SIT OUT THEIR TEAM'S NEXT GAME, AND MAY BE DISQUALIFIED FOR THE REMAINDER OF THE TOURNAMENT AT THE SOLE DISCRETION OF THE EVENT ORGANIZERS. EJECTED FANS, PLAYERS, OR TEAM PERSONNEL WILL BE REQUIRED TO IMMEDIATELY LEAVE THE TOURNAMENT VENUE AND, IF CIRCUMSTANCES WARRANT, WILL BE REMANDED TO LOCAL LAW ENFORCEMENT AUTHORITIES. ANY FAN, PLAYER, TEAM PERSONNEL EJECTED UNDER THESE CIRCUMSTANCES WILL BE PERMANENTLY BANNED FROM ALL TOURNAMENT VENUES AND FROM PARTICIPATION IN ANY FUTURE GymRat EVENTS. FURTHER, AT THE DISCRETION OF THE TOURNAMENT DIRECTORS, A SINGLE ACT OF VIOLENCE COMMITTED BY AN INDIVIDUAL PLAYER OR TEAM PERSONNEL MEMBER MAY RESULT IN IMMEDIATE DISQUALIFICATION AND DISMISSAL OF THE ENTIRE TEAM FROM ANY FURTHER COMPETITION IN THE CURRENT GymRat EVENT AND/OR ANY FUTURE GymRat EVENTS.

ON-SITE ATHLETIC TRAINERS ARE RESPONSIBLE FOR EMERGENCY SITUATION AND INJURY CARE ONLY. TEAMS ARE RESPONSILBE FOR THEIR OWN PREVENTITIVE CARE AND EQUIPMENT (i.e., ANKLE TAPING AND TAPE).
GymRat CHALLENGE MERCHANDISE & APPAREL WILL BE ON SALE ONLY WHILE SUPPLIES LAST ONLY. WE WILL NOT BE ABLE TO SHIP MERCHANDISE AFTER THE EVENT. TEAMS THAT HAVE ORDERED T-SHIRTS IN ADVANCE WILL HAVE THEIR ORDER WAITING FOR THEM AT CHECK-IN.

GymRat LIVE is the best digital viewing experience of any grassroots basketball event anywhere on the planet. The GymRat LIVE broadcast-quality game film will be the best game film available to any player, coach, or recruiter in the nation. Click here to view a clip of last year's landmark GymRat LIVE event and see why NOTHING LIKE GymRat LIVE HAS EVER TAKEN PLACE IN THE HISTORY OF GRASSROOTS BASKETBALL.
DIGITAL GENERAL ADMISSION: The $99 General Admission broadcast package allows the purchaser to view all broadcast and streamed games of the GymRat LIVE in real-time AS WELL AS having archived access to all games. The $99 Digital General Admissions package will be available beginning May 13th through Sunday May 15th. CLICK HERE or on ACCESS THE BROADCAST button above in order to purchase the Digital General Admission package. Once the event ends, the price of gaining access to 2022 GymRat LIVE increases to $149.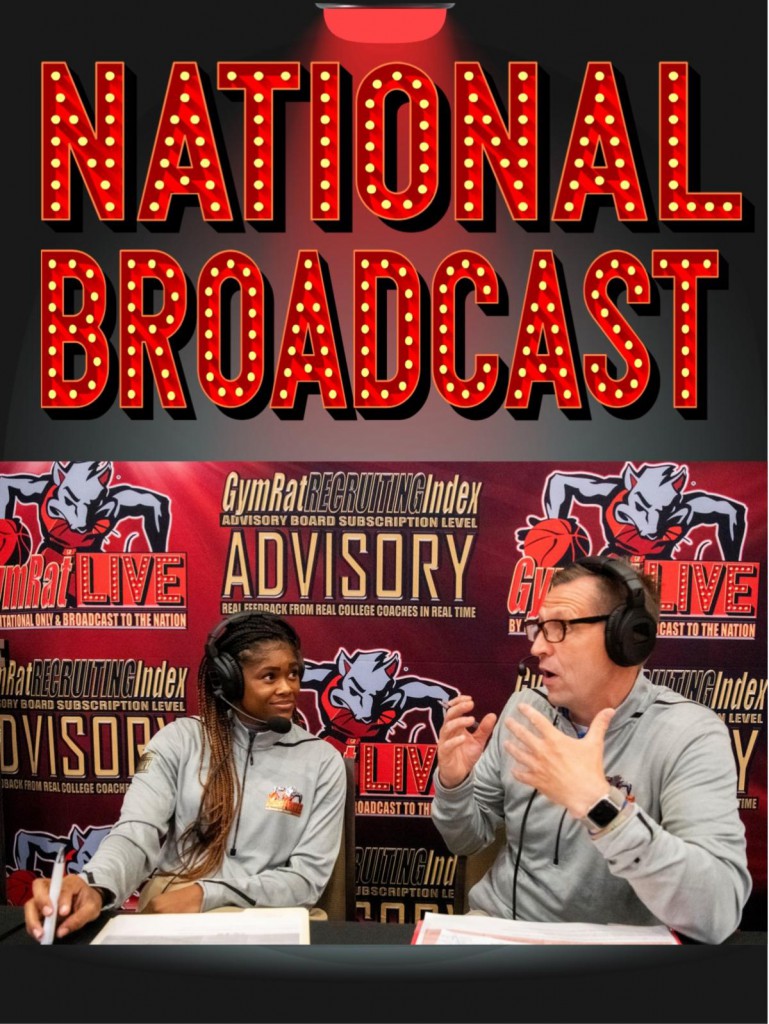 GymRat LIVE is the GREATEST SHOW IN GRASSROOTS BASKETBALL! By INVITATION-ONLY, the GymRat LIVE field includes representatives of NIKE's EYBL, the Under Armour Association and Adidas' 3 Stripe Select Basketball Circuit going head to head in Alpha v. Alpha match-ups that are displayed across the country and around the world in a full broadcast production that provides the brightest spotlight's ever to shine on the grassroots basketball landscape.
Created as a complimentary addition to the legendary GymRat CHALLENGE events that have been the proving ground for today and tomorrow's NCAA and NBA stars since 1998, GymRat LIVE is NOT a live "stream" with a teenager holding an iPAD at half-court while every viewer squints to see jersey numbers and hopes that the iPAD operator remembers to move their lens. GymRat LIVE IS an ESPN-quality full broadcast production with multiple professionally operated cameras on every court, replay cameras, color and play-by-play commentators, as well as full technical and graphics staffs.
Click the image below to view a clip of last year's landmark GymRat LIVE event and see why NOTHING LIKE GymRat LIVE HAS EVER TAKEN PLACE IN THE HISTORY OF GRASSROOTS BASKETBALL.