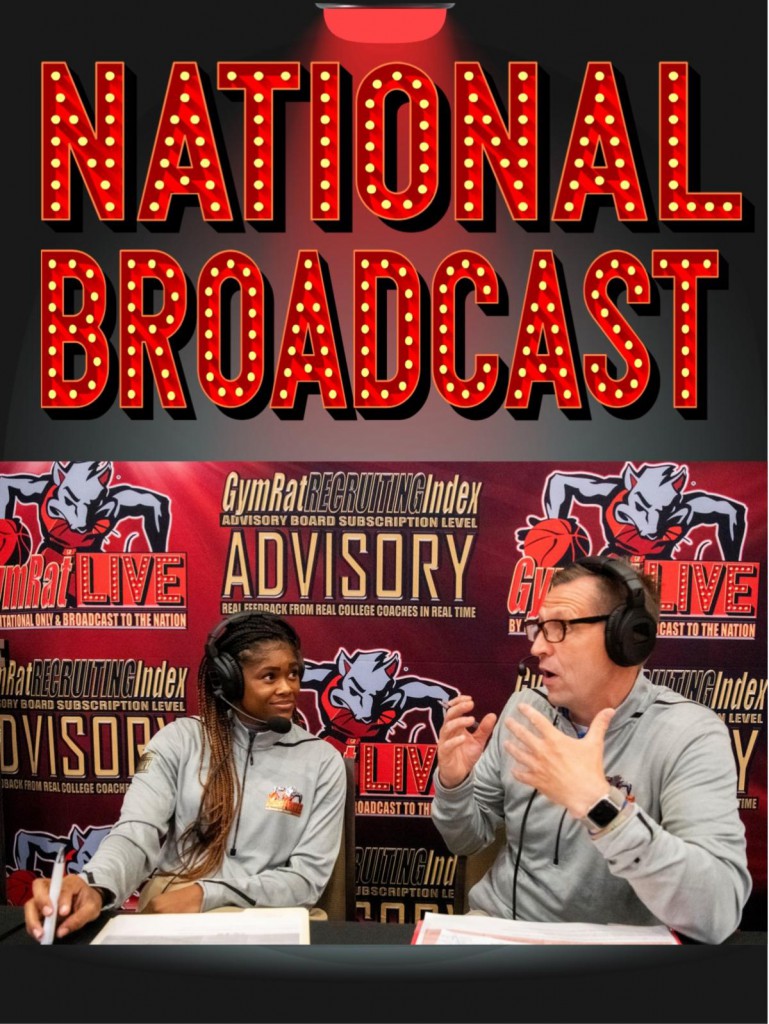 GymRat LIVE is the GREATEST SHOW IN GRASSROOTS BASKETBALL! By INVITATION-ONLY, the GymRat LIVE field includes representatives of NIKE's EYBL, the Under Armour Association and Adidas' 3 Stripe Select Basketball Circuit competing head to head in exclusive cross-sneaker brand CHAMPIONSHIP event.
These Alpha v. Alpha match-ups are displayed across the country and around the world in a full broadcast production that provides the brightest spotlights ever to shine on the grassroots basketball landscape. Created as a complimentary addition to the legendary GymRat CHALLENGE events that have been the proving ground for today and tomorrow's NCAA and NBA stars since 1998, GymRat LIVE IS LIKE NOTHING ELSE THAT HAS EVER TAKEN PLACE IN THE HISTORY OF GRASSROOTS BASKETBALL.
After receiving approval from the Governor's Office and the Department of Health, GymRat LIVE was the first large-scale sporting event to operate in New York State coming out of the pandemic in 2021….and it created a new paradigm in the elite grassroots basketball space. For the first time since national player rankings had been published dating back to the late 1980s, GymRat LIVE featured the top three players in the nation competing on the same team with Emoni Bates, Jalen Duren, and Dereck Lively all suiting up for the #1 ranked grassroots team in the nation, Team Final out of Philadelphia. Rob Brown, Director of Team Final, the eventual 2021 NIKE Peach Jam Champions was clear in his assessment, "If you want to play against the best in a one of a kind setting, GymRat LIVE is must see TV" said Brown. "GymRat LIVE 'WOWed' us on every level. We can't say enough about this event. From the facility to the national media coverage to the social media content to the overall hospitality….We were completely impressed. GymRat LIVE is 'THE SHOW' and the gold standard in grassroots basketball."
GymRat LIVE's 2021 Most Outstanding Player, Jalen Duren, re-classified into the class of 2022 and was selected in the first round of the 2022 NBA Draft (#13 overall) by the Detroit Pistons. Entering the 2022-23 college basketball season, four other members of the GymRat LIVE All-Tournament Team were projected as first rounders in the 2023 NBA Draft in Dereck Lively (Duke), Kyle Filipowski (Duke), JJ Starling (Notre Dame) and Emoni Bates (Eastern Michigan).
In 2022, GymRat LIVE showcased 18 of the top 100 prospects in the national class of 2023, including ESPN's #1 rated overall prospect & University of Kentucky commit Justin Edwards (Team Final), Oregon commit Kwame Evans, Jr. (Team Durant), Matas Buzelis (Expressions Elite) who has committed to begin playing professionally in 2023, North Carolina commit Simeon Wilcher (NY RENS), Florida State commit Taylor Bol Bowen (Expressions Elite), Duke commit TJ Power (BABC), Rutgers commit Gavin Griffiths (Expressions Elite), U. CONN commit Solomon Ball (Team Melo), Virginia commit Elijah Gertrude (City Rocks), Illinois commit Amani Hansberry (Team Durant), Memphis commit Ty-Laur Johnson (NY RENS)., Marquette commit Tre Norman (BABC), UCLA commit Brandon Williams (PSA Cardinals), Michigan commit Papa Kante (NY RENS), Xavier commit Reid Ducharme (BABC), Pittsburgh commit Carlton Carrington (Team Melo), Alabama commit Mouhamed Dioubate (PSA Cardinals) and Wisconsin commit Gus Yalden (City Rocks). The field also featured the #1 ranked player in America in the class of 2024 Naas Cunningham (NY RENS) who is now showcasing his talent in the Overtime Elite league, and the #2 ranked player in the class of 2025 Cooper Flagg of Maine United and Montverde (FL) High School.
Over the past two seasons, GymRat LIVE has featured the #1 AND/OR #2 ranked players in the nation in the classes of 2021, 2022, 2023, 2024, and 2025.
GymRat LIVE shines the greatest spotlight in all of grassroots basketball. As a true invitational event, there is no charge for teams to compete at GymRat LIVE. Teams are selected to compete at GymRat LIVE based on input from national and regional media members, sneaker company executives, basketball coaches, experts, and evaluators.
If you believe that your team or program deserves consideration to be invited to compete in GymRat LIVE, contact GymRat LIVE Executive Director, John Kmack, at 1-888-7-GYMRAT (1-888-749-6728) or email us at COMPETE@GymRatCHALLENGE.com.
Each year, players from throughout the United States & Canada gain national and regional notoriety and enhance their recruiting process based on their GymRat performances. The list of GymRat alums who have gone on to NCAA and NBA stardom is long, distinguished, and growing each year. The top of that list includes NBA MVPs, World Champions, All-Stars, and Lottery Picks, NCAA Players of the Year, National Champions and All-Americans, Olympic Gold Medalists, McDonald's All-American's, and Naismith National High School Players of the Year.
In addition to national media members, scouting services, hundreds of college coaches in attendance and tuning into the broadcast, the GymRat Evaluation Team is on site throughout the event weekend compiling notes. The legendary GymRat Evaluation Staff is comprised of expert current and former professional, college, and high school coaches, professional players, and media members. The unique GymRat experience provides PROVEN services and benefits that go well beyond the dates of the competition. To properly evaluate during the event, the GymRat Evaluation Staff is assigned in a matrix. ALL teams at ALL Age Divisions of the GymRat CHALLENGE are viewed at least twice by at least two different GymRat evaluators in order to ensure that no player is judged on a single performance or on the opinion of a single GymRat evaluator. At the conclusion of the event, all evaluator notes are compiled into the GymRat REPORT….the most extensive report provided by any basketball event in the nation. This comprehensive 60+ page report highlights ALL-GymRat performers and provides detailed written evaluations for HUNDREDS of players that are directly available to every college coach throughout the nation, as well as all GymRat participants through their GymRat RECRUITING Index accounts.