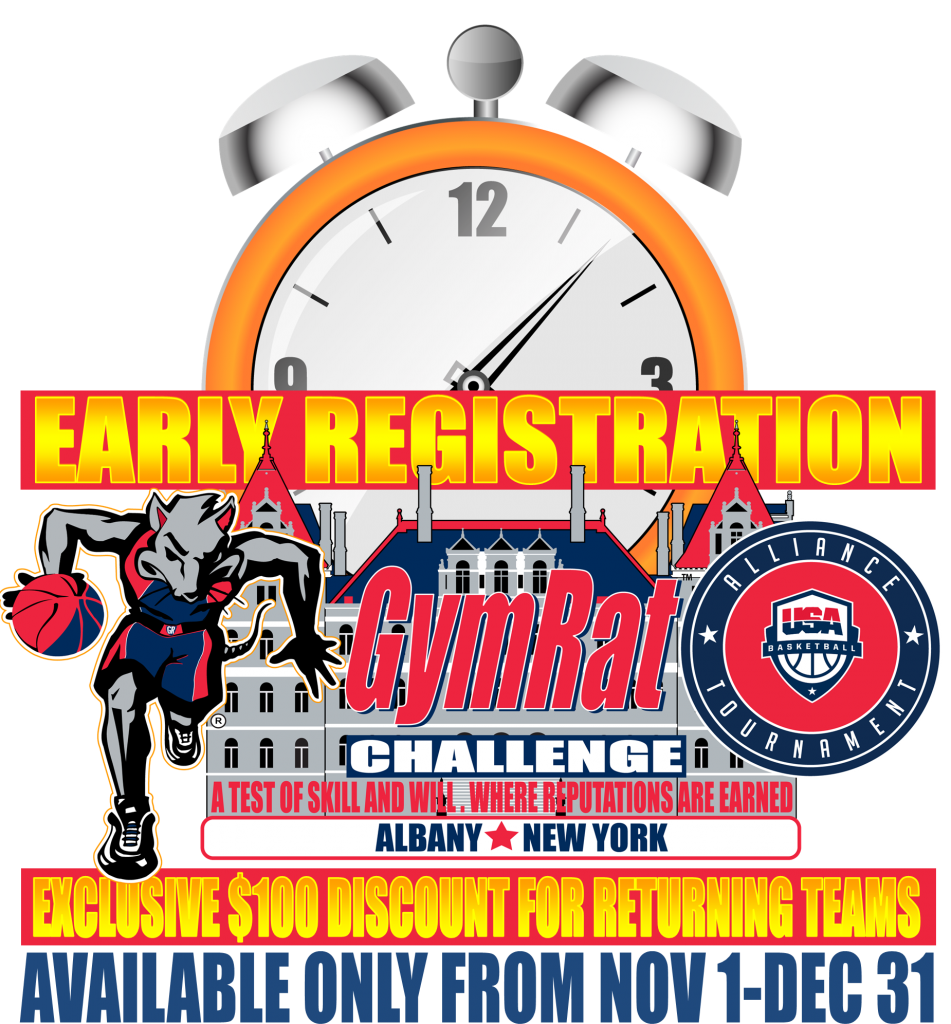 The exclusive annual GymRat CHALLENGE EARLY REGISTRATION period begins on November 1st and runs through December 31st. EARLY REG is open only to RETURNING teams and teams that were on the 2019 Waiting List. Because the GymRat CHALLENGE is reaching its maximum capacity earlier and earlier each year and our Waiting Lists are growing in size year over year, the EARLY REG period is designed to give RETURNING TEAMS an advanced opportunity to lock-in their spots and take advantage of EARLY REGISTRATION DISCOUNTS of $100 per team.
During the annual EARLY registration period, RETURNING teams and teams that were placed on the 2019 WAITING LIST can register at the DISCOUNTED rates listed below….A $100 DISCOUNT from National Registration rates:

• From NOV 1 to DEC 31,GymRat CHALLENGE discounted EARLY registration fees will be:
$395 for teams in the 8th through 11th Grade divisions
$295 for teams in the 13U & 12U divisions.
• Teams that know that they want to return to the 2020 GymRat CHALLENGE are strongly encouraged to take advantage of the exclusive EARLY REG period to lock in their spots before NATIONAL registration opens on January 1st. Once NATIONAL registration begins on January 1st: throughout the United States & Canada, registration rates will be
$495 for teams in the 8th through 11th Grade divisions
$395 for teams in the 12U & 13U divisions
Multi-team discounts available. Call 1-888-7-GYMRAT (1-888-749-6728) for details