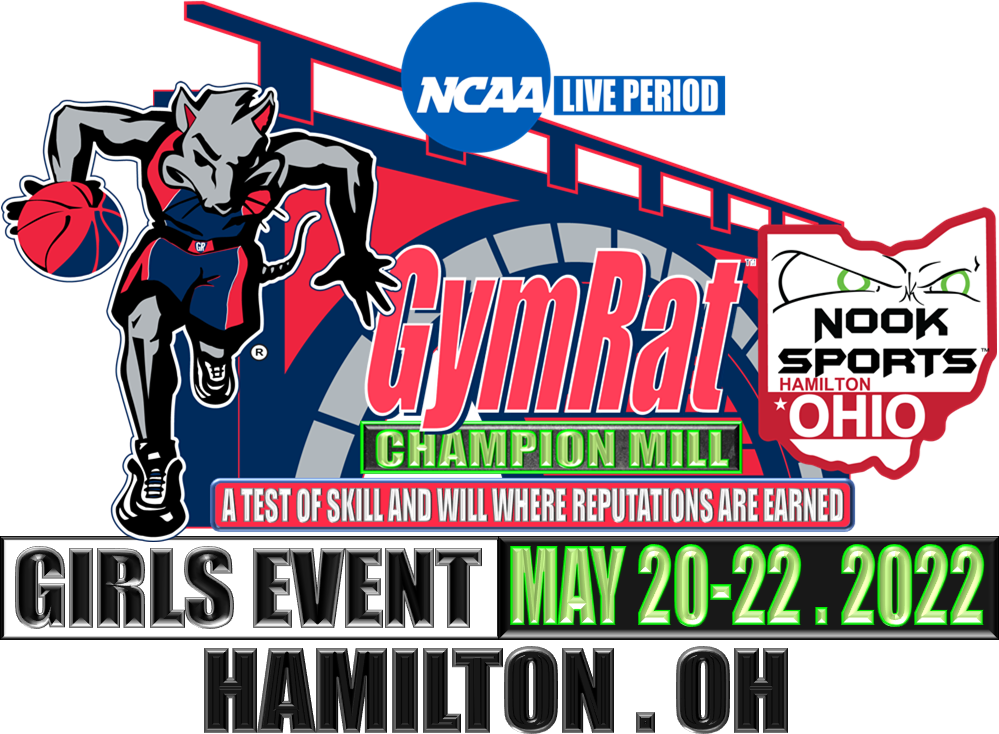 IN ADDITION TO THE GymRat CHALLENGE EVENTS IN ALBANY, NY THAT HAVE BEEN A LEGENDARY PART OF THE BASKETBALL LANDSCAPE FOR 25 YEARS. WE'RE ADDING A NEW EVENT TO THE CALENDAR IN 2022 IN THE HEART OF THE MIDWEST….AND IT'S GONNA LIGHT UP THE NCAA'S MAY LIVE RECRUITING PERIOD….WITH OVER 300 TEAMS FROM ACROSS THE UNITED STATES & CANADA COMPETING AGAINST EACH OTHER IN THE LARGEST INDOOR ATHLETIC FACILITY ON THE CONTINENT IN FRONT OF HUNDREDS OF COLLEGE COACHES EAGER TO DEFINE THEIR NEXT RECRUITING CLASSES….AS WELL AS NATIONAL TALENT EVALUATORS FROM ESPN AND THE McDONALD'S ALL-AMERICAN GAME!!!!
AS ONE OF THE MOST RESPECTED DEVELOPERS OF GRASSROOTS EVENTS IN AMERICA, GymRat BASKETBALL IS PARTNERING WITH THE DEVELOPER OF THE LARGEST INDOOR ATHLETIC FACILITIES IN THE NATION TO BRING YOU THE GymRat CHALLENGE AT CHAMPION MILL FROM MAY 20-22, 2022.
 THE DEVELOPERS OF NOOK SPORTS ARE BUILDING A 1.2 MILLION SQUARE FOOT, 28-COURT BEHEMOTH JUST OUTISDE OF CINCINNATI, OHIO CALLED CHAMPION MILL. CHAMPION MILL WILL OPEN ITS DOORS IN THE SPRING OF 2022 AS THE LARGEST INDOOR ATHLETIC FACILITY ON THE NORTH AMERICAN CONTINENT. NO TEMPORARY COURTS. NO PLAYING ON PLASTIC TILES. JUST PERMANENT COURTS DESIGNED FOR MAJOR BASKETBALL EVENTS. THE GymRat CHALLENGE AT CHAMPION MILL WILL HELP OPEN THIS ONE-OF-A KIND FACILITY BY SHOWCASING TEAMS AND PLAYERS FROM THROUGHOUT THE COUNTRY AT A MAJOR EXPOSURE EVENT THAT WILL BE ONE OF THE HIGHLIGHTS OF THE 2022 GRASSROOTS BASKETBALL CALENDAR.
AS THE SINGLE LARGEST EVENT OF ITS KIND IN THE EASTERN UNITED STATES, AND THE THIRD LARGEST EVENT OF ITS KIND ON THE ENTIRE NORTH AMERICAN CONTINENT, REPUTATIONS ARE EARNED AT THE GymRat CHALLENGE. THE GymRat CHALLENGE HAS BECOME A RITE OF PASSAGE FOR TODAY AND TOMORROW'S NCAA AND WNBA STARS. FROM WNBA ALL-STAR AND SCORING CHAMP EPIPHANY PRINCE TO REIGNING WNBA MVP AND FOUR-TIME U.CONN NATIONAL CHAMPION BREANNA STEWART, SINCE 1998, THE GREATEST PLAYERS ON THE PLANET HAVE COME TO THE GymRat CHALLENGE TO PROVE THEMSELVES AGAINST TOP COMPETITION. WITH UNPARALLELED COVERAGE FROM COLLEGE COACHES, SCOUTING SERVICES, AND BASKETBALL PUBLICATIONS, MORE PLAYERS ARE RECRUITED OUT OF THE GymRat CHALLENGE THAN ANY OTHER EVENT IN THE NATION.
 FORMAT
FOUR game guarantee with additional games for Championship Round qualifiers

All three days of competition will take place during the NCAA's LIVE recruiting period from May 20-22 allowing Division I coaches to be in attendance.

Media coverage from ESPN National talent evaluators and writers, as well as McDonald All-American voters

GymRat Evaluation Team on hand throughout the weekend for talent evaluation & selection of All-GymRat CHALLENGE team and MVPs in each age division for inclusion in the GymRat REPORT that is available to every college coach in the nation

Potential for MAXIMUM of 6 games over the event weekend
POOL PLAY CHAMPIONSHIP FORMAT
POOL PLAY concludes at 11:15 AM on the final day of competition
Pool Champions& potential Wildcard teams advance to the CHAMPIONSHIP ROUND beginning at 1:35 PM on the final day of competition
CHAMPIONSHIP ROUND format includes

Bracket play based on POOL PLAY performance and resulting CHAMPIONSHIP ROUND seed
Single elimination with MAXIMUM of three games in CHAMPIONSHIP ROUND play
Champions awarded in each CHAMPIONSHIP ROUND bracket
This three-game maximum CHAMPIONSHIP ROUND formatreduces fatigue and results in higher quality performance in all brackets of the CHAMPIONSHIP ROUND
This format allows all CHAMPIONSHIP ROUND qualifiers to play a minimum of one and a maximum of three games in this highly competitive round.
This format preserves the legendary trademark Championship –style of the GymRat CHALLENGE, allows for national recognition for winners in all brackets, and allows for early conclusion times for all teams.

Certified referees for all games.
Athletic Trainers on site
GIRLS GymRat CHALLENGE AT CHAMPION MILL TEAM REGISTRATION FEES
$695 for teams in the 8th through 11th Grade divisions
$495 for teams in the 12U & 13U divisions
Multi-team discounts available. Call 1-888-7-GYMRAT (1-888-749-6728) for details.
COMPETITION DIVISIONS
In accordance with USA Basketball's Grade and Age Eligibility Requirements, the following competition divisions will be offered at the GymRat CHALLENGE
11th Grade– Athletes must be enrolled in the 11th grade or below (as of October 1, 2021) AND cannot turn 19 prior to September 1, 2022
10th Grade– Athletes must be enrolled in the 10th grade or below (as of October 1, 2021) AND cannot turn 18 prior to September 1, 2022
9th Grade– Athletes must be enrolled in the 9th grade or below (as of October 1, 2021) AND cannot turn 17 prior to September 1, 2022
14U– Athletes cannot turn 15 prior to September 1, 2022 (age division, no grade exceptions)
13U– Athletes cannot turn 14 prior to September 1, 2022 (age division, no grade exceptions)
12U– Athletes cannot turn 13 prior to September 1, 2022 (age division, no grade exceptions)
PLAYER ELIGIBILITY VERIFICATION
It is the responsibility of the head coach to provide age and grade (if applicable) verification for players at any time throughout the tournament. Permitted forms of player age verification include birth certificates, passports and government-issued IDs (originals, hard copies or digital copies). Permitted forms of player grade verification include school-issued report cards or school administrator confirmation of grade issued on school letterhead (originals, hard copies or digital copies).
USA BASKETBALL COACH LICENSE INFORMATION
The USA Basketball Coach License program focuses on educating coaches while ensuring the safety of those with whom the coach may come in contact. The program is designed to develop an inclusive basketball community of credible, qualified and dedicated coaches and administrators who serve the game.
There are two USA Basketball Coach License types: gold and associate. Both licenses require successfully passing a background check and completing online courses. The gold license provides additional benefits and coaching resources, but either license type is permitted for all coaches and bench personnel participating in Alliance Tournaments.
* While either license type is permitted for Official Qualifiers, coaches and event operators participating in NCAA-Certified events are still required to obtain a USA Basketball Gold Coach License, as mandated by the NCAA. More information can be found at https://www.usab.com/youth/development/coach/coach-license.aspx
COACH LICENSE SEASON
All licenses are valid from completion date through August 31st of the license year.
PROCESS TO OBTAIN A COACH LICENSE
Step 1: Go to https://community.usab.com/
Step 2: Select PROCEED under Coach Registration.

*If you had an account in the previous season, click LOGIN in the top right corner and follow the prompted steps to renew your license.

Step 3: Enter your account information, select your license type and pay the corresponding fee.
Step 4: On your dashboard, select the BACKGROUND SCREENING bubble to begin your check through our screening partner Verified Volunteers.
Step 5: On your dashboard, select the COURSES bubble and complete the required courses in your account.
Once your background check is clear and you have completed your courses, you will become licensed for the season and receive the benefits associated with your license level. Once licensed, set your online coach account profile to "public" view to allow for real-time verification of licensure.