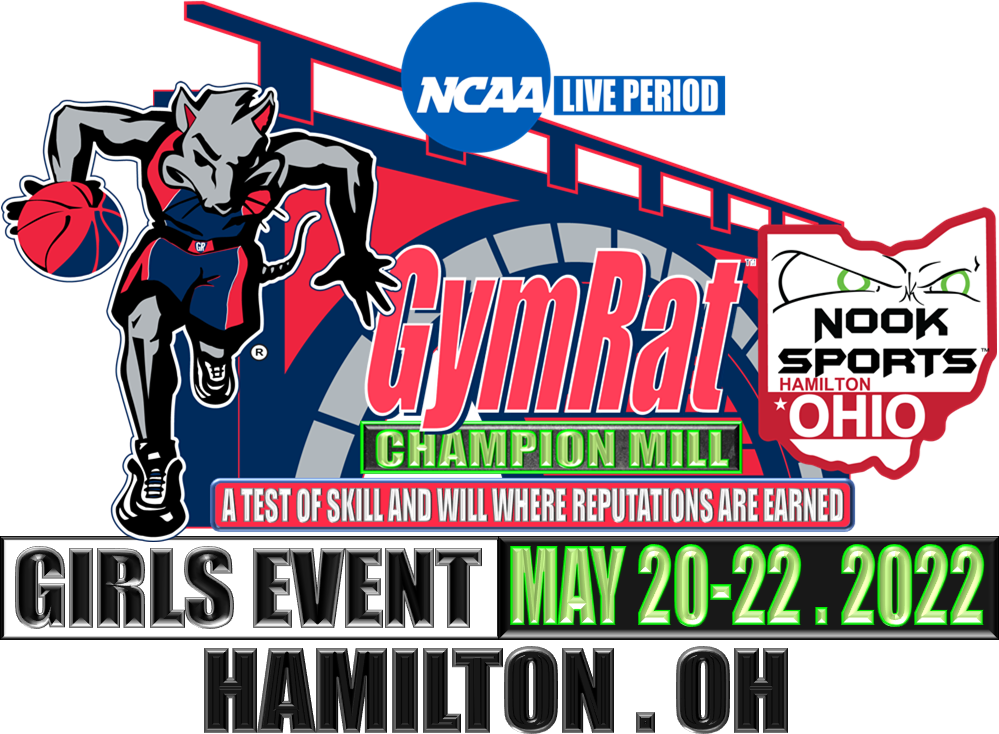 IN ADDITION TO THE GymRat CHALLENGE EVENTS IN ALBANY, NY THAT HAVE BEEN A LEGENDARY PART OF THE BASKETBALL LANDSCAPE FOR 25 YEARS. WE'RE ADDING A NEW EVENT TO THE CALENDAR IN 2022 IN THE HEART OF THE MIDWEST….AND IT'S GONNA LIGHT UP THE NCAA'S MAY LIVE RECRUITING PERIOD….WITH OVER 300 TEAMS FROM ACROSS THE UNITED STATES & CANADA COMPETING AGAINST EACH OTHER IN THE LARGEST INDOOR ATHLETIC FACILITY ON THE CONTINENT IN FRONT OF HUNDREDS OF COLLEGE COACHES EAGER TO DEFINE THEIR NEXT RECRUITING CLASSES….AS WELL AS NATIONAL TALENT EVALUATORS FROM ESPN AND THE McDONALD'S ALL-AMERICAN GAME!!!!
AS ONE OF THE MOST RESPECTED DEVELOPERS OF GRASSROOTS EVENTS IN AMERICA, GymRat BASKETBALL IS PARTNERING WITH THE DEVELOPER OF THE LARGEST INDOOR ATHLETIC FACILITIES IN THE NATION TO BRING YOU THE GymRat CHALLENGE AT CHAMPION MILL FROM MAY 20-22, 2022.
THE DEVELOPERS OF NOOK SPORTS ARE BUILDING A 1.2 MILLION SQUARE FOOT, 28-COURT BEHEMOTH JUST OUTISDE OF CINCINNATI, OHIO CALLED CHAMPION MILL. CHAMPION MILL WILL OPEN ITS DOORS IN THE SPRING OF 2022 AS THE LARGEST INDOOR ATHLETIC FACILITY ON THE NORTH AMERICAN CONTINENT. NO TEMPORARY COURTS. NO PLAYING ON PLASTIC TILES. JUST PERMANENT COURTS DESIGNED FOR MAJOR BASKETBALL EVENTS. THE GymRat CHALLENGE AT CHAMPION MILL WILL HELP OPEN THIS ONE-OF-A KIND FACILITY BY SHOWCASING TEAMS AND PLAYERS FROM THROUGHOUT THE COUNTRY AT A MAJOR EXPOSURE EVENT THAT WILL BE ONE OF THE HIGHLIGHTS OF THE 2022 GRASSROOTS BASKETBALL CALENDAR.
AS THE SINGLE LARGEST EVENT OF ITS KIND IN THE EASTERN UNITED STATES, AND THE THIRD LARGEST EVENT OF ITS KIND ON THE ENTIRE NORTH AMERICAN CONTINENT, REPUTATIONS ARE EARNED AT THE GymRat CHALLENGE. THE GymRat CHALLENGE HAS BECOME A RITE OF PASSAGE FOR TODAY AND TOMORROW'S NCAA AND WNBA STARS. FROM WNBA ALL-STAR AND SCORING CHAMP EPIPHANY PRINCE TO REIGNING WNBA MVP AND FOUR-TIME U.CONN NATIONAL CHAMPION BREANNA STEWART, SINCE 1998, THE GREATEST PLAYERS ON THE PLANET HAVE COME TO THE GymRat CHALLENGE TO PROVE THEMSELVES AGAINST TOP COMPETITION. WITH UNPARALLELED COVERAGE FROM COLLEGE COACHES, SCOUTING SERVICES, AND BASKETBALL PUBLICATIONS, MORE PLAYERS ARE RECRUITED OUT OF THE GymRat CHALLENGE THAN ANY OTHER EVENT IN THE NATION.