GymRat LIVE is the best digital viewing experience of any grassroots basketball event anywhere on the planet.

 The GymRat LIVE broadcast-quality game film will be the best game film available to any player, coach, or recruiter in the nation. Click here or the images below to view a clip of last year's GIRLS GymRat LIVE event and see why NOTHING LIKE GymRat LIVE HAS EVER TAKEN PLACE IN THE HISTORY OF GRASSROOTS BASKETBALL.
COLLEGE COACHES wishing to access the broadcast and/or attend GymRat LIVE in person, should 
CLICK HERE
 or on the ACCESS THE BROADCAST button below.
GymRat LIVE has set a new standard for digital presentation in the grassroots basketball space. GymRat LIVE is a full-broadcast production with multiple professionally operated cameras on each court, including a replay camera, as well as a technical director, graphics director, and broadcast team (play-by-play and color commentator) on every broadcasted game. The PROFESSIONAL broadcast of GymRat LIVE games will be available to every college coach in the country.
To purchase the GymRat LIVE College Coaches digital recruiting package:
Once on the site, simply click the GET ACCESS link for the event that you would like to view.
If you don't already have one, you will be asked to create a GymRat Account that will allow you access to the system

PLEASE BE CERTAIN TO USE YOUR SCHOOL-ISSUED EMAIL ADDRESS

THOSE WITHOUT AN E-MAIL ASSOCIATED WITH AN NCAA PROGRAM WILL BE PROHIBITED FROM PURCHASING THE BROADCAST.

Once you complete the purchase, a receipt will be e-mailed you.
The $199 College Coaches Digital package includes:

ABILITY TO WATCH THE PROFESSIONALLY BROADCAST GymRat LIVE EVENT IN REAL TIME
ABILITY TO WATCH PLAYBACK OF THE GymRat LIVE EVENT
All GymRat LIVE broadcasted games will be archived in your GymRat RECRUITING Index dashboard and available to replay at any time
ACCESS TO FULL DIGITAL ROSTER INFORMATION FOR GymRat LIVE
PLUS….an annual subscription to the NCAA certified GymRat RECRUITING Index is included with GymRat LIVE. That subscription will allow your program to:
READ PLAYER EVALUATIONS WRITTEN BY THE GymRat ADVISORY BOARD, COMPRISED OF RESPECTED FORMER COLLEGE COACHES WHOSE GOAL IS TO HONESTLY & ACCURATELY IDENTIFY THE POTENTIAL RECRUITMENT LEVEL OF PLAYERS
ACCESS TO THE ENTIRE GymRat DATABASE, WHICH HOSTS THOUSANDS OF PLAYER PROFILES THAT INCLUDE:
PERSONAL, CONTACT, AND ACADEMIC INFORMATION
GAME FILM
AAU/HIGHSCHOOL GAME SCHEDULES AND COACHING REFERENCES (WITH CONTACT INFO)
ACCESS TO ANY GYMRAT EVALUATIONS AND EVENT REPORTS THAT THE PLAYER HAS APPEARED IN
ABILITY TO SEND MASS OR TARGETED MESSAGES TO PLAYERS IN ORDER TO PROMOTE YOUR PROGRAM, CAMPS, PROSPECT DAYS, & MORE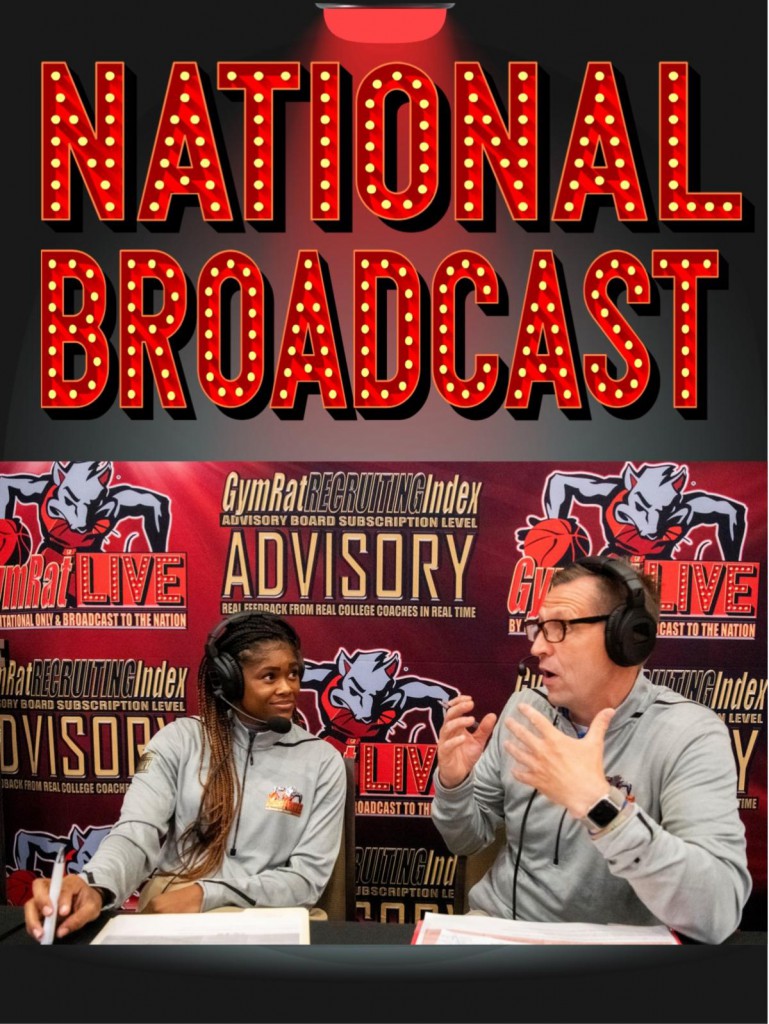 GymRat LIVE is the GREATEST SHOW IN GRASSROOTS BASKETBALL! The GymRat LIVE field includes representatives of NIKE's EYBL, the Under Armour Association and Adidas' 3 Stripe Select Basketball Circuit, as well as the highest level independent programs in the nation going head to head under one of the brightest spotlight's ever to shine on the grassroots basketball landscape. Created as a complimentary addition to the legendary GymRat CHALLENGE events that have been the proving ground for today and tomorrow's NCAA, NBA, and WNBA stars since 1998,
 BY INVITATION-ONLY, GymRat LIVE pits 30 of North America's TOP grassroots basketball teams in head-to-head, ALPHA vs. ALPHA match-ups that are displayed across the country and around the world in a FULL BROADCAST PRODUCTION
.
GymRat LIVE is NOT a live "stream" with a teenager holding an iPAD at half-court while every viewer squints to see jersey numbers and hopes that the iPAD operator remembers to move their lens. GymRat LIVE IS an ESPN-quality full broadcast production with multiple professionally operated cameras on every court, replay cameras, color and play-by-play commentators, as well as full technical and graphics staffs.